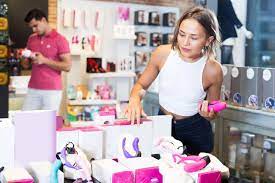 Buying a dildo can be an exciting and personal experience. Whether you're a beginner or a seasoned enthusiast, there are various factors to consider when selecting the perfect toy. Here's an ultimate dildo buying guide to help you make an informed decision:
Size: Dildos come in a range of sizes, from small and slim to large and girthy. Consider your comfort level and experience when choosing the size. Beginners may prefer starting with smaller sizes and gradually working their way up.
Material: Dildos are made from various materials, each offering unique sensations and benefits. Common materials include silicone, glass, metal, and realistic skin-like materials such as TPE or TPR. Silicone is a popular choice due to its body-safe, non-porous nature and flexibility.
Shape and Texture: Dildos come in different shapes and textures to enhance stimulation. Some have a realistic design with veins and contours, while others feature smooth or textured surfaces for added pleasure. Consider what type of stimulation you enjoy and choose accordingly.
Vibrating or Non-vibrating: Dildos can be either vibrating or non-vibrating. Vibrating dildos have built-in motors that provide additional stimulation. Decide whether you prefer the sensation of vibration or a more traditional non-vibrating experience.
Harness Compatibility: If you're interested in strap-on play, look for dildos that are compatible with harnesses. These dildos often have a flared base or a suction cup for stability during use.
Remember that personal preference plays a significant role when choosing a dildo. What works for one person may not work for another. Take your time, explore your options, and prioritize your comfort and pleasure when making your selection.
Size
When it comes to choosing the size of a dildo, personal preference and comfort should be the primary factors to consider. Here are some guidelines to help you make an informed decision:
Experience Level: If you're a beginner or new to using dildos, it's generally recommended to start with smaller sizes. This allows your body to gradually adjust to the sensation and helps prevent discomfort or potential injury. As you become more experienced, you can experiment with larger sizes if desired.
Length: Consider how deep you're comfortable with penetration. Dildos come in various lengths, ranging from a few inches to over a foot. If you're unsure, you can measure your own comfort level using your fingers or other objects as a guide.
Girth: Girth refers to the thickness or circumference of the dildo. Some people may prefer slimmer dildos, while others may enjoy a fuller or more girthy sensation. Again, start with a size that feels comfortable and gradually increase as desired.
Realistic vs. Non-realistic: If you're looking for a realistic experience, consider the average size of an erect penis, which is around 5.5 to 6.3 inches in length and 4.7 to 5.1 inches in girth. Keep in mind that realistic dildos often have some flexibility, which can make them more comfortable to use.
Intended Use: Think about how you plan to use the dildo. If you want to use it for anal play, it's crucial to consider a smaller size with a tapered or gradual increase in girth to ensure comfort and prevent injury. For vaginal use, you may have more flexibility in terms of size options.
Partner Compatibility: If you plan to use the dildo with a partner, communicate and consider their preferences as well. Ensure that the size you choose works well for both of you and accommodates your needs and desires.
Remember, these guidelines are not set in stone, and there is no right or wrong size. It's all about finding what feels pleasurable and comfortable for you. Take your time, explore your options, and listen to your body's cues to determine the size that suits you best.
Material
Choosing the right material for your dildo is important for comfort, safety, and overall satisfaction. Here are some common dildo materials to consider:
Silicone: Silicone is a popular choice for dildos due to its body-safe properties. It is non-porous, hypoallergenic, and easy to clean. Silicone dildos are typically smooth, flexible, and offer a realistic feel. They can retain heat, be used with water-based lubricants, and are often considered a top-quality option.
Glass: Glass dildos are made from high-quality, borosilicate glass, which is strong, durable, and body-safe. They are non-porous, easy to clean, and can be heated or cooled for added sensation. Glass dildos are firm, smooth, and can provide unique stimulation. However, they may not be suitable for those who prefer a softer or more flexible feel.
Metal: Metal dildos are crafted from body-safe materials like stainless steel or aluminum. They are non-porous, easy to clean, and have a firm, smooth texture. Metal dildos can be heated or cooled for temperature play, and their weight can provide a sense of fullness. However, some may find them too rigid or unyielding.
Realistic Skin-like Materials: Dildos made from TPE (thermoplastic elastomer) or TPR (thermoplastic rubber) aim to replicate the feel of real skin. These materials are soft, flexible, and can be more affordable than silicone options. However, they are porous and require extra care during cleaning. It's important to note that some people may have sensitivities to these materials, so always consider your own comfort level.
Dual Density: Dual density dildos are designed to mimic the feel of real human anatomy. They typically have a firm inner core and a softer, more realistic outer layer. This combination provides a firmness for penetration while offering a more natural texture. Dual density dildos are often made from high-quality silicone.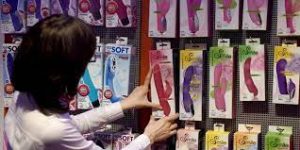 Shape and Texture
The shape and texture of a dildo can greatly impact the sensations and pleasure you experience during use. Here are some considerations to keep in mind when choosing the shape and texture of a dildo:
Realistic vs. Non-realistic: Dildos come in both realistic https://incognito.black and non-realistic designs. Realistic dildos aim to replicate the look and feel of a penis, complete with veins, ridges, and sometimes even a textured glans. Non-realistic dildos can have a wide range of imaginative shapes, such as curved, angled, or spiral designs. Consider whether you prefer a more lifelike experience or if you're open to exploring unique and abstract shapes.
G-spot or Prostate Stimulation: If you're interested in G-spot or prostate stimulation, look for dildos specifically designed for these purposes. They may have a curved or angled shape to target these sensitive areas more effectively. G-spot or prostate dildos often have a pronounced curve or a bulbous tip for optimal stimulation.
Texture and Ridges: Dildos can feature various textures and ridges along their shafts. These textures can enhance stimulation and provide a different feel during penetration. Some people enjoy the added sensation of bumps, ribs, or raised textures, while others prefer a smoother surface. Consider your preferences for texture and choose accordingly.
Size and Gradual Increase: Dildos with a gradual increase in size can be beneficial for those who prefer a more gradual or gentle insertion. These dildos typically start with a smaller tip and gradually widen towards the base, allowing for easier and more comfortable penetration.
Flexibility: The flexibility of a dildo can affect the overall comfort and maneuverability during use. Some dildos are rigid and provide a firm, unyielding feel, while others are more flexible and bendable, allowing for more adaptability and comfort. Consider how much flexibility you desire in a dildo based on your personal preferences.
Vibrating or Non-vibrating
When it comes to choosing between a vibrating or non-vibrating dildo, consider the following factors to make an informed decision:
Sensation Preference: Determine whether you enjoy vibration or prefer a more traditional non-vibrating experience. Vibrating dildos provide added stimulation and can enhance pleasure by targeting sensitive areas. On the other hand, non-vibrating dildos rely on manual thrusting and movement for stimulation. Consider your personal preferences and the type of sensations you find most pleasurable.
Variety of Stimulation: Vibrating dildos offer a range of vibration patterns and intensities. They can provide a wide variety of sensations, from gentle pulsations to intense vibrations. If you enjoy versatility and exploring different levels of stimulation, a vibrating dildo may be the right choice for you. Non-vibrating dildos, while lacking vibration, can still offer enjoyable stimulation through their shape, texture, and size.
Partner Play: If you plan to use the dildo with a partner, consider their preferences as well. Some people may find the addition of vibration heightens their pleasure, while others may prefer the simplicity and control of a non-vibrating dildo. Open communication and mutual exploration can help determine the best choice for shared experiences.
Noise Level: Vibrating dildos, especially those with powerful motors, can produce noise during operation. If discreetness is important to you, consider the noise level of the vibrating dildo you're considering. Look for models that specifically advertise quiet or whisper-quiet vibrations if noise is a concern.
Power Source: Vibrating dildos are typically powered by batteries, rechargeable batteries, or by being plugged into a power source. Consider your preference for power sources and the convenience they offer. Battery-powered options may require frequent battery replacements, while rechargeable options can provide longer-lasting and more eco-friendly power
Harness Compatibility
Flared Base or O-Ring Compatible: Look for dildos that have a flared base or are specifically designed to be O-ring compatible. The flared base ensures that the dildo stays securely in place during use with a harness. O-ring compatibility means the dildo has a diameter that fits through the O-ring of the harness, allowing for easy attachment.
Size and Weight: Consider the size and weight of the dildo in relation to the harness you plan to use. Some harnesses have weight limits or may not accommodate larger or heavier dildos comfortably. Ensure that the dildo you choose is within the weight and size limits of your harness to ensure stability and a secure fit.
Length and Girth: Take into account the length and girth of the dildo and how it will feel for both the wearer and the receiver. Consider the comfort and preferences of both parties involved. If you're unsure, starting with a more average-sized dildo can be a good starting point for harness play.
Shape and Curve: Consider the shape and curve of the dildo in relation to the desired stimulation. Some dildos have a curved or angled shape that can enhance G-spot or prostate stimulation. Choose a shape that complements your intended use and preferences.
Material and Flexibility: Ensure that the dildo material is body-safe and compatible with the harness. Silicone is a common material for harness-compatible dildos due to its flexibility, durability, and ease of cleaning. The flexibility of the dildo can also affect the comfort and maneuverability during harness play, so consider the desired level of flexibility based on your preferences.