Is there anything more enjoyable than allowing your inhibitions to melt away while giggling madly as a result of cannabis? Even the horrible Reefer Madness addressed the idea of getting high and giggling uncontrollably. Buy best weed with Weed Delivery Toronto.
Medical cannabis is known for a variety of effects, many of which have been exaggerated, but the giggles are one that may be just as amusing as the movies suggest – and it's not a negative thing!
According to Robert Provine, author of Laughter: A Scientific Investigation, only 20% of laughs are caused by silly activities. He feels that laughing is a form of communication that dates back thousands of years. In general, laughter is a delightful experience; if you get the right strain, you can appreciate the joy of giggling rather quickly.
In this article, we present our top five cannabis strains for when you need a good chuckle. However, first, let's figure out why marijuana makes us laugh so much.
Cannabis and the Giggles – What's the Connection?
We don't know the reason for it, but we do know that laughter is a motor response prompted by our appreciation of humor. As you are aware, humor has a wide range of meanings depending on various factors such as social, cultural, and linguistic context. The brain's right and left temporal lobes are responsible for laughter.
The connection between marijuana and laughter was investigated in a 2006 study by Sneider et al., which was published in Experimental Clinical Psychopharmacology. Marijuana increased blood flow to these brain regions, according to the researchers. It's possible that THC in cannabis causes uncontrollable laughing because of overactivity in these areas, according on one hypothesis.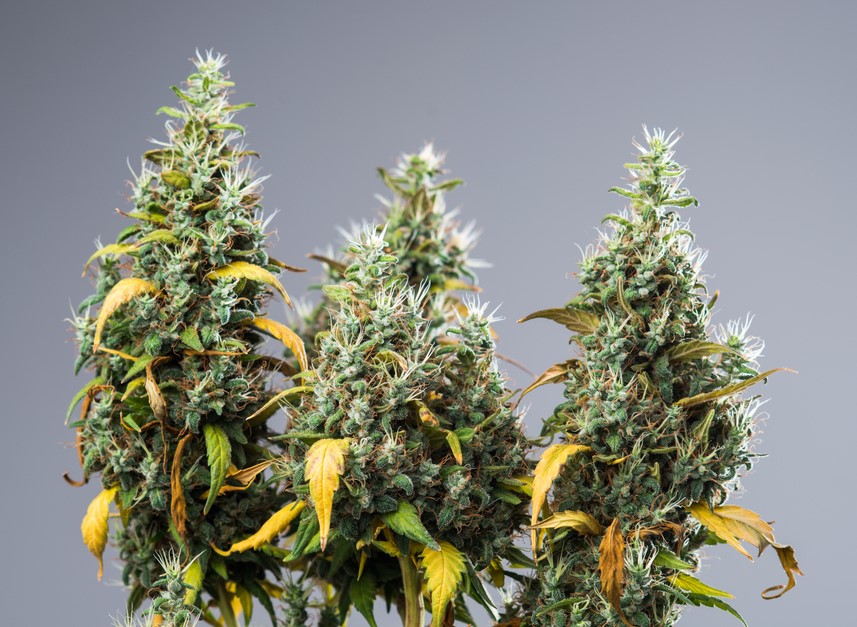 Dopamine and serotonin are neurotransmitters that make you feel good. One of the endocannabinoid system's main jobs is to control these chemicals. Weed boosts both dopamine and serotonin, causing the user to feel better. Our brain also contains mirror neurons.
Do you realize that you often yawn when seeing someone else do the same? It's the same story with laughter, too. If you witness someone else laughing and enjoying themselves, it's likely that you'll join in as well.
Let's assume you're smoking marijuana with a buddy. If your friend begins giggling high, it's likely that you'll follow suit. In a large gathering, the sight of half a dozen grownups rolling on the ground in hysterics is hilarious!
Now that we've gone over the scientific side, let's introduce our five cannabis comedians.
5 Great Cannabis Strains for Inducing Fits of Giggles
Blue Diesel – The Blueberry Belly-Buster
Blue Diesel is a popular indica strain that has gained a bad reputation for being an excellent social smoke. This fruity cross between Blueberry and NYC Diesel is a force to be reckoned with. Its THC content of up to 23% is likely to put you and your friends in stitches.
Blue Diesel is a fun strain that's ideal for unwinding after a long day. With relaxing and uplifting effects, it makes you feel physically relaxed and mentally refreshed. This cheerful cannabis strain has strong physical impacts, which makes it good for combating anxiety and stress. It won't ruin your day, therefore it's perfect for an afternoon session!
Blue Diesel is a strain that is great for relieving tension and letting off steam. It has a sour floral undertone, which you'd expect from its fruity notes. It's an excellent smoke that you'll want to share with your friends over and over again.
Laughing Buddha – The Famously Funny Strain
The Laughing Buddha strain was a must-have on this list. The name tells you everything with this one; you'll be swept away on a cerebral high that will have you smiling like a Cheshire cat for hours. It has a THC concentration of up to 18 percent.
The first ever winner of the Cannabis Cup was this relaxed sativa-dominant strain, which took home the honors in 2003. It's still popular today for its happy emotions and ability to enhance attention and awareness. Laughing Buddha is a cross between Jamaican and Thai cannabis plants, with a unique, powerful flavor that lingers long after your last puff.
Imagine a combination of soils with sage, and you're getting close to Laughing Buddha. Don't worry; while it makes you happy for hours and more relaxed than you thought possible, it will not cause drowsiness. As a result, it's great for daytime smoking.
Liberty Haze – The Giggly Creative Strain
For individuals dealing with stress and anxiety, Liberty Haze is an excellent strain to help them relax and see the lighter side of life. This hybrid strain is a mix of ChemDawg 91 and G13. It contains up to 21% THC and has a fast-acting high that both relaxes the body and stimulates the mind. Users have reported feeling focused, calm, and open to innovation.
Liberty Haze is a great choice for smoking with your buddies since it will open up interesting and amusing conversations! We adore the euphoric feeling that Liberty Haze produces, as well as the physical soothing effects that last for hours.
The 2011 Cannabis Cup winner has an earthy, musky flavor to it. The skunky qualities make for a laid-back gathering with friends. The mildly sativa-dominant strain's powerful side effects come on fast and remain potent for a long time.
Church OG – The Silly Strain
Up to now, the strains on the list have medicinal properties with a side of giggles, but Church OG is truly hilarious! Church OG is the one for you if uncontrollable laughter ensues at nothing.
When you're having trouble getting out of bed, this indica-dominant variety has a high 19 percent THC and can put you to sleep in huge quantities. This is probably best saved for nighttime use.
Chronic pain is a good match for Purple Kush. It generates a powerful bodily high that makes you feel calm, hungry, and euphoric. One of our favorite combinations for eliciting giggles is OG Kush with God's Gift because it has a pine and lavender flavor!
Sweet Diesel – The Focused Giggles Strain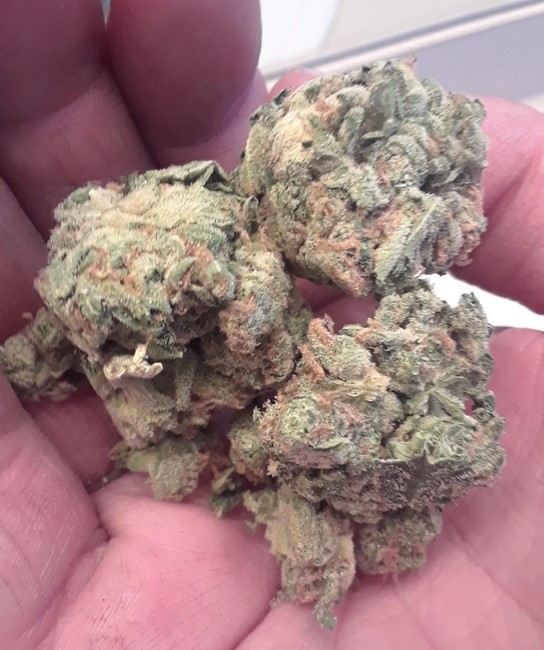 Sweet Diesel is a delicious treat that comes in tropical-fruit flavors like pina Colada, Pineapple Express, and Watermelon Haze. This sativa strain is made up of equal parts OG Kush and Sour Diesel. It has THC levels ranging from 10% to 22%. Unfortunately, the breeders' names are unknown, which is a bummer because this is a fantastic product.
The upbeat high will have you working for hours on your creative pastime. Sweet Diesel is a powerful strain that is excellent for alleviating tension and bringing on giggles by getting creative!
We can't get enough of this one's flavor. It has distinct, sweet tastes and undertones of diesel and earthy notes. Sweet Diesel is a delectable smoke with excellent, long-lasting, well-balanced effects that are enjoyable to grow. The lengthy orange hairs and layers of trichomes on these resinous buds will delight growers. Sweet Diesel is a fantastic choice for daytime usage since the high lasts for a long time.
Final Thoughts: The Best Weed Strains for Laughing Your Ass Off
If you're looking for creative ways to see the funny side of things, we can't recommend these five strains enough. Each has its own distinct flavor that is fun to experience. This is true whether you enjoy smoking with friends or watching a comedy on your own. You won't be sorry if you give one of these a try, regardless of why you're smoking!