I'd like to remind you that the rest of this review will be about Supabets South Africa. Supabets is present in several African marketplaces, but we decided to evaluate them one at a time.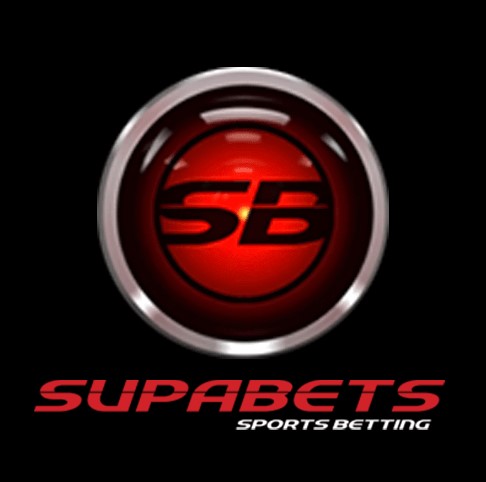 Supabets is a well-known brand in South Africa. Even if you aren't into sports betting, I'm sure you've heard of Supabets before. At least, that was the case for me until recently. The first time I became aware of Supabets was a few years ago when I saw one of their betting shops while walking down the street in downtown Johannesburg. To be honest, I had never played on their website before then even though I placed bets at their locations several times. Some people adoreSupabets whereas others despise it – there doesn't seem to be any middle ground!
Are you tired of reading online sports betting nonsense? Then come with us as we explore the world of Supabets.
Pros
One of the most impressive interface on the market
One can book a bet to place in a shop
It has a large variety of customer service features
One of the best welcome bonuses in South Africa
Have great mini-games and a lotto
Cons
Odds don't compete with some of the bigger players in the market
Supabets do not have their own app, instead, they make use of a mobile site
There's no horse racing
Unpublished payout times
Supabets First Impression
My initial impression of the landing page was that it was nothing out of the ordinary. With their black and red color scheme, it has a clean appearance. A standard layout across Africa. When the website was first launched, it may have looked quite stunning. Keep in mind that many African telecom companies prioritize practicality over aesthetic design. Which makes perfect sense.
In many parts of the world, many people do not have the most up-to-date phones or limitless data. People want to gamble, but they may not want flashy items. When developing their website, Supabets considered this, especially since they offer both an old and new version.
Around 15 minutes after I started browsing, it began to be a little difficult to figure things out. It had the feeling of Supabets throwing all of their betting shops into a blender and producing a website out of it. Joking aside, the fact remains that the website is not adequately planned in terms of goods. There are numerous versions of Supabet, each with its own story. And there we have it: my view on how Supabets' website looks like.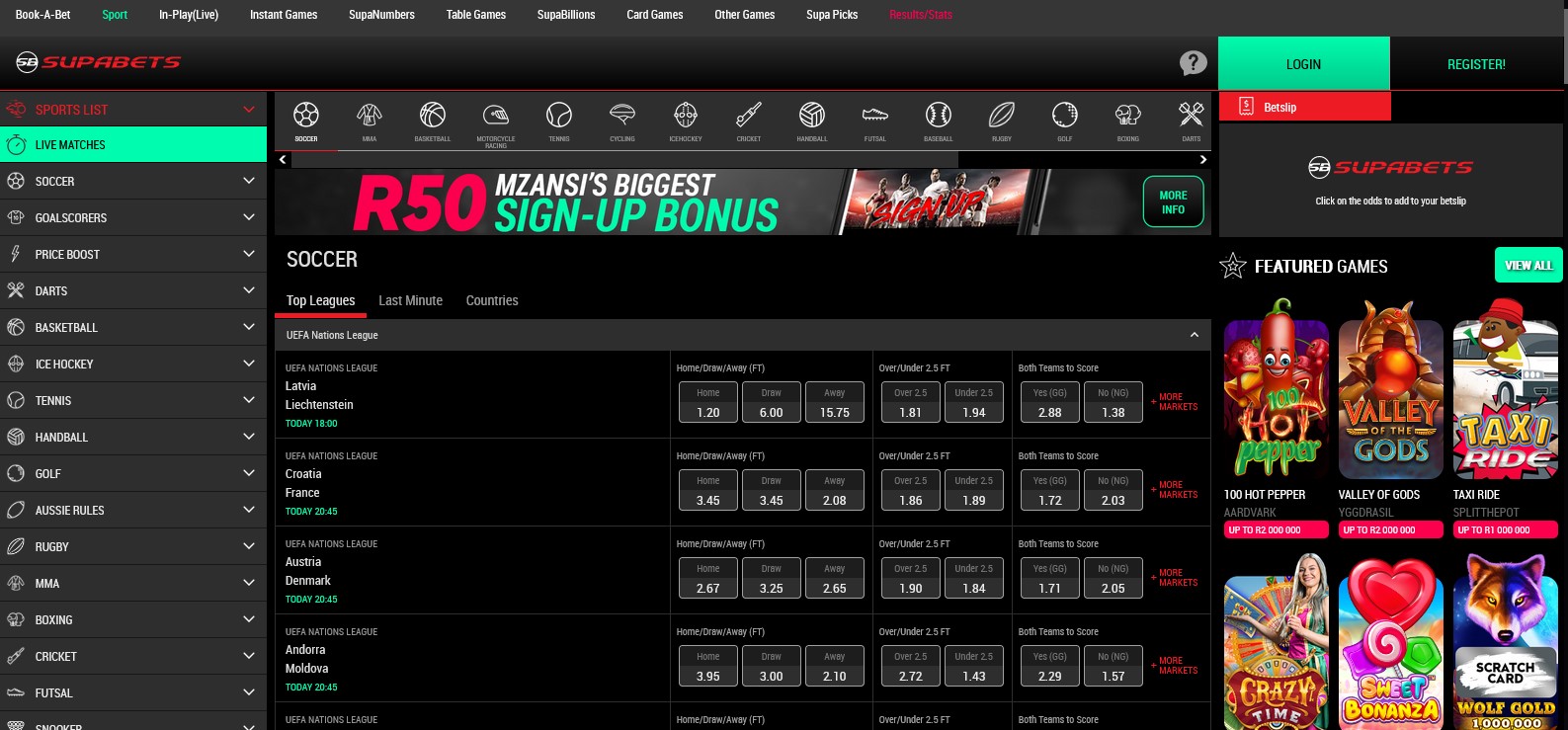 I must say that the mobile version is somewhat neater than the desktop version. To be honest, I'm not sure whether the "new" mobile website is superior to the "old" one. First and foremost, I should mention that when you log in to Supabets on your phone, you have the option of visiting the old Supabets site. Of course, I did so.
The old mobile website, for what it's worth – as well as the new one – is a bit outdated but still functional. The old site, to be honest, appeals to me somewhat more than the current one. After that, if you go back to the old mobile page, you have the option of going over to the main site. Which translates into a desktop version.
Let me put it another way: Supabets may appear to be a decent choice at first sight. However, once you begin looking around, everything becomes rather perplexing. There are numerous expired offers and various versions of the same site depending on which product you pick. The brand lacks any semblance of cohesion or coherence. It's still simple to find the most important parts of the site, such as login and registration, which is excellent news.
Registration
South African sports betting sites have a rather basic registration process. Click the green register now button, and make sure you have your passport or ID ready to go. This is due to regulations in South Africa–you must always be able identify yourself before being allowed to bet (or else risk not being able to withdraw any potential winnings).
There are a few other things to keep in mind when you register. Always use your own cellphone number and nobody else's. As soon as you enter all your details and click theregister button, you'll receive an SMS from Supabets. This is for opting in, verifyingyour phone number, and confirming your new account.
You'll be able to access your Supabets account after you've completed the steps. Remember that before you can deposit money and start betting with Supabets, you must FICA your account. Go to the web-site and follow the instructions to upload your information.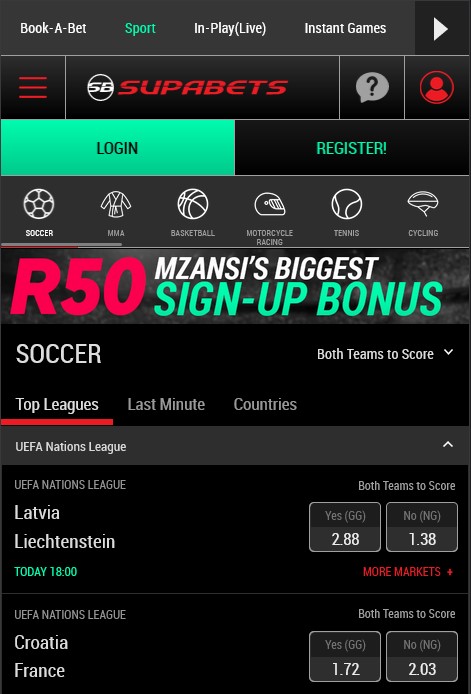 SUPABETS PRODUCT EXPERIENCE
Let's get this party started. The overall product experience and presentation is, without a doubt, outdated. Before I go any further into this evaluation, I must confess that I had high hopes for the firm in question. While attempting to understand the site's architecture, I frequently got lost between the old and new versions. As well as being jumbled among all of the other sub-products that may be found. Lotto, roulette, and horse racing are just a few examples.
Let's take a look at all of Supabets' variations so you can make an educated decision. We'll go through each product in detail below, as well as extra information. So, with regard to the actual website's variations:
SupaBets Old Desktop Version
SupaBets New Desktop Version
SupaBets Old Mobile Version
Supabets New Mobile Version
The main distinctions between the old and new SupaBets versions are the layout. The newer version has a more modern feel to it, but the foundations remain the same. However, I did notice that the new version loads somewhat slower than before, which may impact your overall gambling experience. Another thing to bear in mind is that only the sports betting product was updated with the new and old versions. The rest of the site, such as SUPANumbers and horse racing, remains unchanged. Here I'm doing all possible to give you a clear image of the site; this is difficult for me.
Okay, so we'll put all of these variants aside for now. I'm astounded that Supabets provides such a wide range of betting alternatives as well as compelling games. Personally, I think the website's designers and developers have a lot to learn. I am confident that the site could have been built and planned in a far superior manner.
Sports Betting
Supabets is a fine sportsbook. There's nothing more to it. The fundamentals are there, and searching for what you need is simple. To get close to the larger European firms, they have a long way to go, but right now their product meets the demands. What people want
The site, on the other hand, is available in both an old and new version for desktop and mobile.
Horse Racing – Suparacing
Supabets, a South African favorite, has created Supa Racing–an product focusing on horse racing. This straight-forward site is based off of their old site and gives users a great overview of popular races to bet on. If you're a horse racing fanatic, Supa Racing is the recommended pick for you!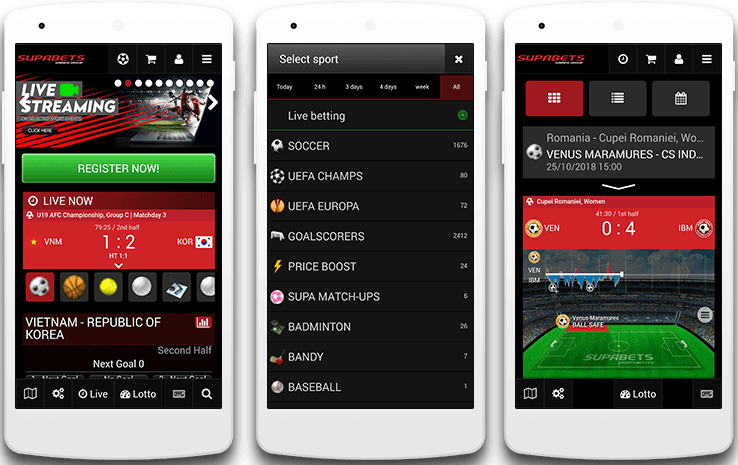 Lottoa – Supanumbers
The Supabets lotto product, SUPANumbers, is extremely popular. The site's design falls under the new Supabet layout and it's easy to spot various lotto options from all over the world. It is also very easy to play; I believe this is one of the best ways to play lotto in South Africa.Supabets did an excellent job with their SUPANumbers product.
What is the secret behind it? The essence of this product is that you can participate in numerous lottery draws across the world. The bet and payment are processed by Supabets, who will pay out the potential winnings on their behalf.
Roulette – Spin & Win
This product is simulating the Supabets' own roulette game. That's all that there is to it. There are however other features like playing against real life players in real-time, so you can see how the bets increase and what numbers/colors people are putting their money on. It's a fun side game but nothing too special that would make me want to spend more than five minutes on it. The layout is exactly the same as SUPANumbers and Supa Racing– less clutter makes for a better focus on the actual product.
Although Supabets offers a great service by providing the latest sports news from around the world, I believe they could improve upon it. Each story is very brief, often only being one sentence. If they put in more effort and provided longer, more detailed stories, I think they would see many more benefits.
PROMOTIONS OVERVIEW
Supabets offer a welcome bonus package that is quite impressive. Most operators only offer a bonus when you make your first deposit, but Supabets have additional conditions. For example, you must make one bet before you are credited with the bonus. With that said, it is always advisable to read all terms and conditions before taking advantage of any bonuses or promotions.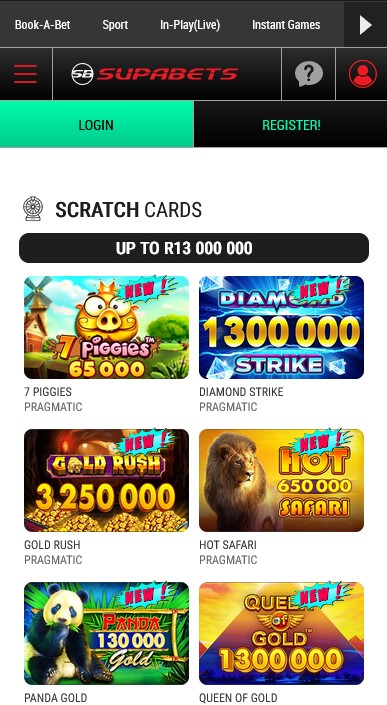 Welcome Bonus
The greatest part of the deal is the R50 sign-up bonus. Keep in mind that you must submit your FICA documents before claiming this incentive money, and it cannot be withdrawn right away. You must first ensure that you rollover (wager) the bonus three times before withdrawing any money. More information may be found in the promotion's T & Cs.
Welcome Bonus: 100% up to R10,000
If you do not want the bonus, make sure to contact customer support either by chat or email. I recommend using the chat option so that you can get an instant response.
Supabets Weekly Cash-back Bonus
This offer is ideal for anybody having a terrible betting week. Supabets will refund any losses you incur. This is a fantastic bargain. 10% may appear to be modest, but in our business, it's better than nothing at all. If you discover that you have any free bonuses on your account, remove them because this clause implies you can't receive a bonus after already taking one. There are a few conditions here that might be difficult to remember; therefore, keep it in mind.
Weekly 10% Cashback Bonus
Offering a weekly cash-back bonus and welcome bonus, this promotion is quite enticing. However, note that the terms and conditions can be tricky, so make sure you read them carefully before getting started.
RESPONSIBLE GAMBLING
As you all know, gamblers.africa understands the importance of responsible gambling. We feel that operators have a responsibility to give their customers with all of the tools they need to maintain complete control over their gaming habits.
If you want to learn more about responsible gambling, Supabets has a page discussing different aspects of it. They have questions you can ask yourself to determine if gambling is becoming a problem for you. Additionally, they list authorities that can help if you think you might have a gambling issue.
This is, in a nutshell, "compliance for the sake of effort." Operators typically just perform the required tasks. Nothing more, nothing less. Supabets does not allow its athletes to establish deposit restrictions or lockdown their accounts themselves. For further assistance, we went to the love chat room. We wanted them to create deposit limitations for us. Supabets does not enable players to set any deposit restrictions at all, which came as a huge surprise to us.
Supabets once more demonstrates that they have a long way to go. The prevention of gambling addiction is the most essential form of responsible gambling.
SUPABETS CONCLUSION
Supabets is a well-established brand, but their online product could be improved. The website is messy and outdated, and there are often misunderstandings about promotions because of this. Removing outdated promotions would help to improve the clarity and focus of the website.
Although Supabets' website is confusing, it has everything that a betting fanatic in South Africa desires. However, the site's confusion might turn away new customers. There are many ways that Supabets could improve and simplify its/their website.
Although Supabets may be focusing on their betting shops, it is time to step into the online gaming world that is taking Africa by storm. Only those who are strongest will survive, and Supabets has what it takes to be at the forefront of this movement.
Supabets may be the ideal site for you if you're searching for a great selection of bonuses, a wide range of gaming products, and don't mind a wild west website.